Curriculum vita
Mass education
Medical camps
Nurses programmes
Telemedicine
Contact information
Professional lectures
Diabetes programmes
Geriatric programmes
Asthma programmes
WHO programmes
Radio programmes
Private clinic


Insulin pump

Insulin analogs
Foot wears




Patients all over the world can use this page for sending your questions on diabetes, asthma and geriatric illnesses.

Registered Patients

Dr.Christopher Saudek, Director Johns Hopkins Diabetes Center, Baltimore, USA (American Diabetes Association President 2002) during his visit to India was with Diabscreen Kerala for 2 hours on Feb. 03, 2006 from 4.00 pm IST. Dr CD Saudek made a fantastic lecture

........ more
Diabscreen at MMRHS, Neeramankara: antiobesity, antismoking compaign in schools, July 27th 2006
Kesavadev Trust along with Mathrubhumi publications organised Diabscreen at Mannom Memorial Residential Higher Secondary School. (Jothydev is an alumni of this school and studied from 5th std until SSLC).Mathrubhoomi circulation Manager Shri.Nandakumar Sharma chaired. Kesavadev Trust sponsored 20 Mathrubhoomi papers ("Madhuram Malayalam") for the school every day for one year.

School Principal MG Vijayakumar, PTA President MRC Nair, PTA executive members Adv.Vijayamohan (MMRHS alumni), Satheesan Nair etc.,participated. Jothydev conducted Diabscreen Quiz program.The students actively participated and prizes were also distributed.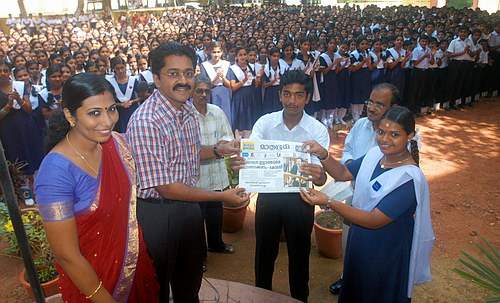 The program in addition to being a health quest ultimately turned out to be an event for generating awareness on over weight prevention, avoidance of smoking, alcohol,diabetes prevention and promotion of daily exercise.