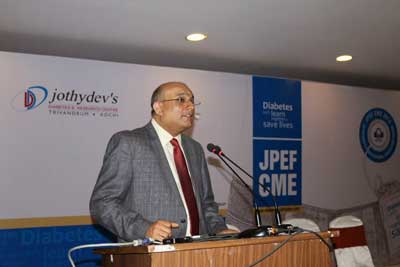 Jothydev's Professional Education Forum (JPEF) CME 2014 had an eminent endocrinologist and orator Prof Dr Krishna G Seshadri lecturing to more than 200 doctors at Udaya Samudra, Kovalam on 5th April 2014 on the 'Incretin therapies and the seven year itch – what have we learnt'.
Dr Seshadri, Head, Department of Endocrinology, Diabetes & Metabolism, Professor of Internal Medicine & Endocrinology, Sri Ramachandra University, Chennai elaborated on the incretin effect and the recent relevant research pertaining to DPP-4 inhibitors and GLP- 1 analogues.
The Clinical Case Scenario presentation 'Diabetes: 4 different clinical scenarios' by
Dr. Arun Shankar along with Dr Jothydev Kesavadev had all the senior doctors actively interacting and discussing the various therapies available for management of diabetes. This was followed by the Insulin pump workshop ' Initiating & sustaining your patient on insulin pump therapy– learning the skills and tips' by Dr Jothydev Kesavadev and diabetes team. Dr Jothydev discussed the pumping protocol for doctors who initiate their patients on insulin pump followed by a pump deployment demonstration. Ms Geethu Sanal (Chief Dietitian, JDC) lectured on Carb Counting in CSII. Gopika Krishnan moderated the sessions.
Dr. Alexander Koshy (CEO & Founder, Century Hospital, Chengannur) handed over the memento to Dr Seshadri. Dr Jothydev Kesavadev gave the welcome address and Dr Arun Shankar offered vote of thanks. Prasad, JDC coordinated the event.